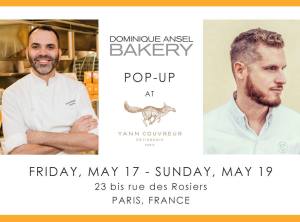 Chef Dominique and the team are excited to announce we'll be bringing some of our signature pastries to Paris for the very first time at a pop-up at Yann Couvreur Pâtisserie from Friday, May 17th to Sunday, May 19th!
Paris holds a special place in Dominique's heart, as he trained in the City of Lights for years before moving to NYC to pursue his dreams. He's excited to bring the Cookie Shot, Frozen S'mores, Mini Madeleines, and even a brand new NYC-inspired Pretzel cake (inspired by those iconic city street cart soft pretzels) that he's created just for this weekend. Plus, a few lucky guests will have the chance to win a Cronut® pastry too!
Hope to see you all there! 
Yann Couvreur Pâtisserie
23 bis rue des Rosiers
Paris, France
Hours:
Friday, May 17th: 9AM-8PM
Saturday, May 18th: 10AM-8PM
Sunday, May 19th: 9AM-8PM
The post We're heading to Paris for a Pop-Up May 17-19! appeared first on Dominique Ansel New York.